DECISION-FOCUSED REPORTING
WE LOOK FOR WAYS TO ELEVATE YOUR FUNDRAISING.
We'll dig into your data to give you the real story — so you can make the next right decision, one decision at a time.
File Audit
Our file audits show the performance across several years and numerous scenarios for multiple years. Top line metrics like revenue and donor count are included as well as detailed stats such as retention, average gift, times mailed, and net income for multiple donor segments.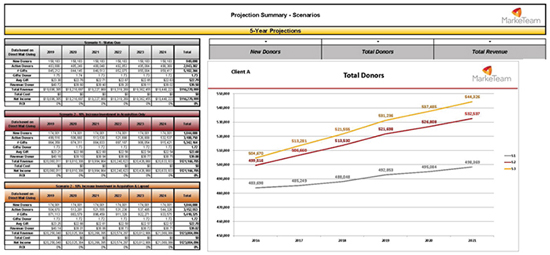 Campaign Results and Cash Flow Reporting
We provide campaign results by drop month, cash flow month and include comparisons to previous years so you know where you stand. Additionally, we provide a deep dive into each campaign, including visibility of each segment and list to allow for data-driven adjustments as results unfold.
Program Management Report (PMR)
Our PMR gives you a snapshot of your current program, estimates your year-end and provides comparisons to the budget and previous year. In addition to providing a high-level overview, we drill down into your program, campaign by campaign, to evaluate the details as well.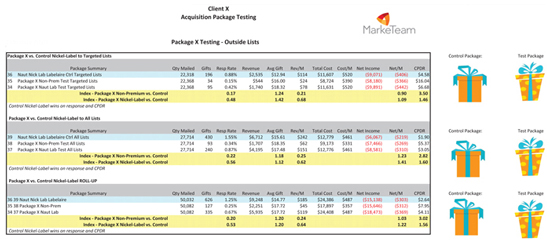 Testing Summary
Our testing summary provides package and test design results, including net impact with rollout cost and statistical significance for all tests performed throughout the year.
Sustainer Reporting and Budgeting
Our Sustainer Reporting Suite features year–over–year comparisons (by channel and month) to identify short-term shifts and interventions needed to keep your sustainer program performing at its peak. We'll also evaluate long-term impacts through Lifetime Value analyses. The Budgeting tool projects how we can help your program grow, given historical retention rates and the future channel investment scenarios.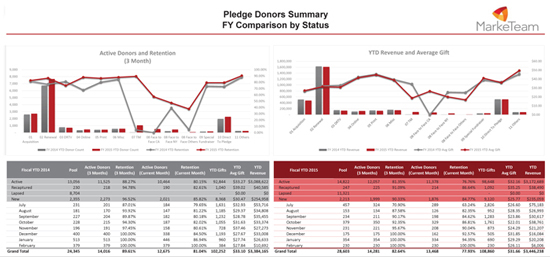 Website Reporting
Our Digital Program Dashboards provide valuable insights on everything you need to know — from return on ad spend to bounce rates and beyond. Our data services allow us to integrate digital data across platforms and report on revenue, cost, and engagement metrics across digital mediums, such as email, search engine marketing, social, etc.