BACKGROUND: Meet Smile Train, a MarkeTeam client since 2004. Smile Train is an international children's charity focusing on a single problem: providing FREE treatment for cleft lips and palates to families who cannot afford the procedure. By empowering local medical professionals, Smile Train is able to provide safe and effective surgery and comprehensive cleft care to children in their own communities in more than 90 countries around the globe.

Like many nonprofits, Smile Train uses High Velocity Premiums (HVPs) as a Lapsed Recapture tool. Also, like many nonprofits, Smile Train has a longstanding Totebag control package that has been difficult to beat because it can easily be tied to the mission and has utility for the recipient. Nonetheless, MarkeTeam has been testing alternatives to find an upfront premium that could effectively recapture more donors with minimal changes to overall spend, all while still being 'mission' oriented and standing out in a world of totebags.
The test package stood up to the Totebag control, knocking its socks off.
STRATEGY: To compete against the HVP Totebag control package, MarkeTeam developed a HVP Socks kit that offered two pairs of socks — included in the mailing as an upfront premium — showcasing two patterns of colorful, branded smiley faces.
The mail package featured an image of the premiums on the outer envelope and letter copy that connected the premiums to Smile Train's mission by encouraging recipients to "take another step" toward giving a child a new forever smile.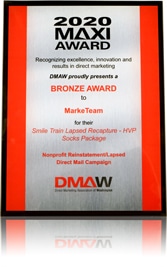 RESULTS: The test package stood up to the Totebag control, knocking its socks off. The HVP Socks provided a 69% lift in response over the control, although there was a 11% degradation in average gift. The Socks Package not only renewed significantly more donors, it also is less expensive at roll-out than the control resulting in an improved net/donor.
Due to the initial testing success, the campaign was rolled out in the Fall 2019 HVP slot. Smile Train has even come across donors wearing their socks, proving that the HVP Socks were successful in reengaging lapsed donors and they continue to put a smile on more donors' faces just as they are helping children with clefts get their forever smile.
Blog written by Christine McDonald
Senior Account Director