MarkeTeam campaigns were among the winning entries at this year's DMFA Awards and the 2023 MAXI Awards — where we even scored the prestigious and highly coveted Big Idea prize!
We're proud of this recognition — and the strong response these efforts generated for our client partners. Here are case studies of the strategy, execution and results.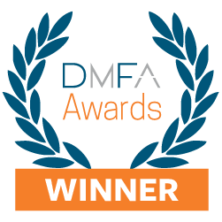 2023 DMFA First Place Tie for Stewardship!
BACKGROUND:
The League of Women Voters is a nonpartisan, activist, grassroots organization that believes voters should play a critical role in democracy. With the 2022 midterms approaching, they needed a campaign that would motivate voters to support the League and get out and vote.
League supporters needed an opportunity to feel empowered. With that in mind, we launched an email campaign to "Pick Your Favorite". The campaign ran from April 26-May 2, 2022 and was a precursor to the Yard Sign Campaign.
STRATEGIC APPROACH:
To boost engagement, we created four designs and presented donors with a chance to select a winning message and graphic treatment for a back-end premium campaign.
We deployed an email with these different designs to League constituents and asked them to vote for their favorite. Email responses drove to a landing page where they could confirm their vote. The landing page featured a follow-up poll which asked where they'd most like to display the selected design. Options included a yard sign, tote bag, t-shirt, and sticker. A follow-up email deployed a few days later reminding them to vote and directing them to the landing page once more.
PROGRAM IMPACT:
Combined, the campaign gathered more than 11,000 votes. The highest percentage of votes (41%) went to the Vote: Our Democracy Depends on It, a theme that carried many Americans through Election Day.
We were also thrilled that 32% voted for the yard sign, followed by a sticker. We later mailed a sticker with the second winning slogan. These two emails also generated more than $29,000!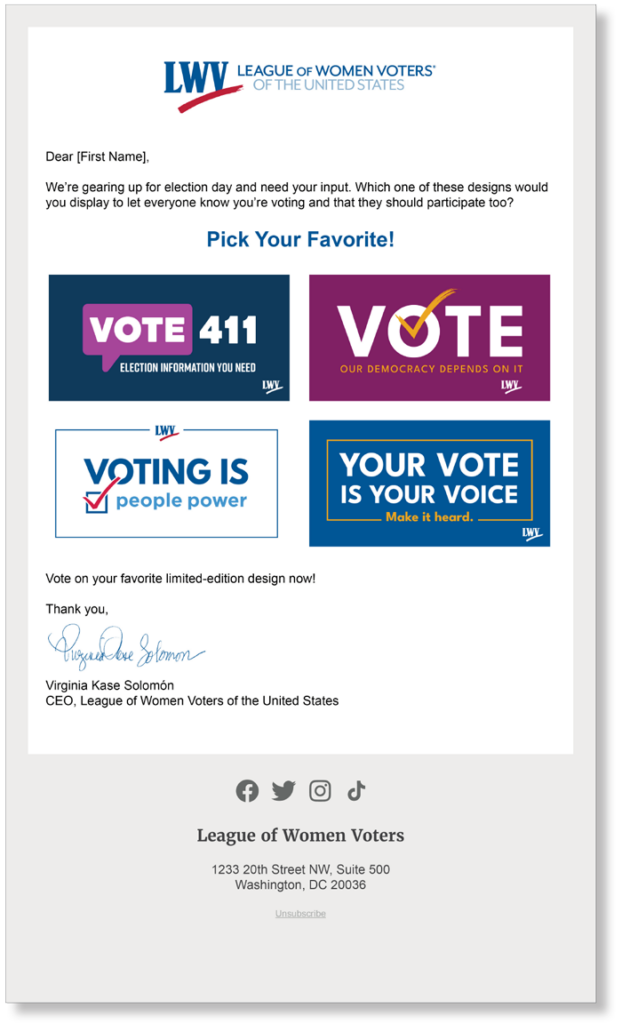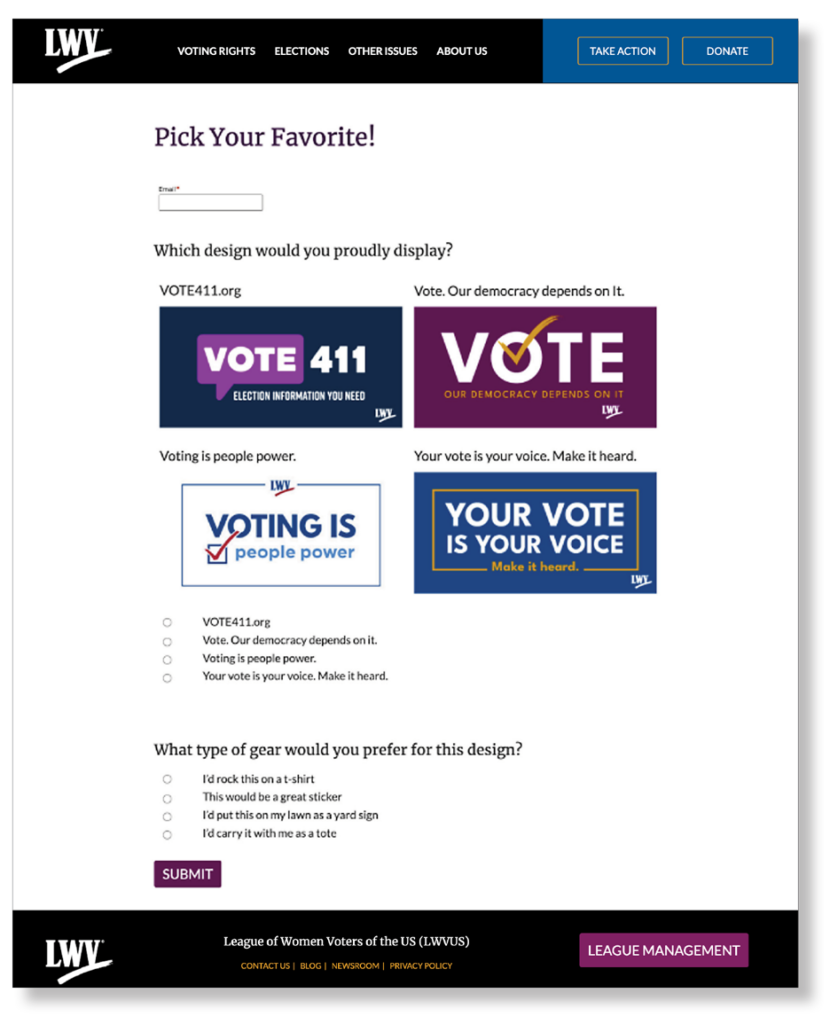 Yard Sign Gets Out the Vote and Generates Revenue
BACKGROUND:
To continue the campaign, we promoted the yard sign design elected for production with a series of emails, Meta ads, and a lightbox on LWV.org. Email appeals asked League donors, Affiliate League members, and Leaders for Democracy (Mid-Level) for a minimum gift of $25, while the ask for prospects (who had never donated) was a minimum of $15. For those who donated, the yard sign was delivered in home by mid-September — just in time for early voting.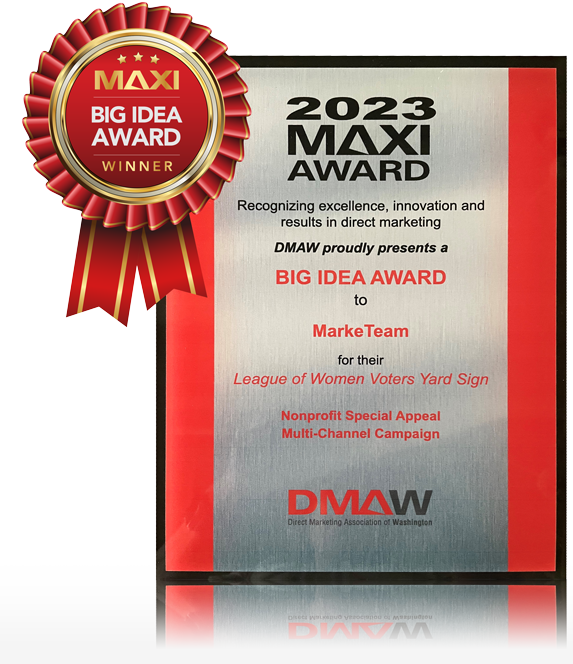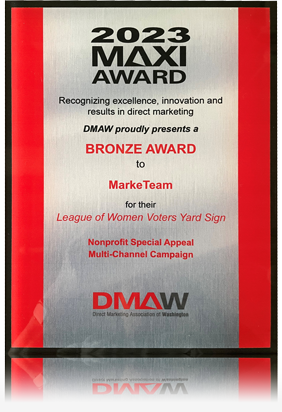 STRATEGIC APPROACH:
The campaign consisted of three emails to the house files and Meta ads to both League constituents and Lookalike prospects. Landing pages for all Yard Sign efforts showed visuals of the fulfillment package.
CAMPAIGN TACTICS:
The final yard sign was produced two-sided with the winning slogan on one side and the other side promoting the League's VOTE411.org website, which features voter registration, polling place and candidate information — in both English and Spanish.
The actual yard sign (25 1/2" x 16") mailed in a large tube (hard to miss) along with a letter, reply device and reply envelope to encourage a second gift. The direct mail fulfillment was mailed in September to almost 5,000 donors — donors to the voting and yard sign campaign along with 1,000 loyal direct mail only donors.
PROGRAM IMPACT:
The program generated over $120,000 from our digital outreach and an additional $16,000+ from the fulfillment package.