July 26th, 2018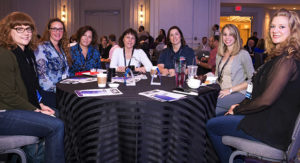 The Direct Marketing Association (DMA) held the 3rd annual Marketing Analytics Conference (MAC)
recently in MarkeTeam's own backyard, here in Atlanta (or the ATL as we like to call it). Even though this was open to all types of organizations beyond just non-profits, it was interesting to see what approaches other people are taking to address challenges shared across the Analytics industry. In spite of the variety of companies represented, there were a few common themes relevant to the experiences we have working with our clients.
1 – Artificial Intelligence (AI) & Machine Learning (ML) are powerful tools, but require a large amount of clean data.
There was a lot of discussion about AI and ML throughout the conference, which did not come as a surprise given all the buzz in the industry. Some organizations have had mixed results with voice assistant applications, but the overwhelming interest was really in the promise of these techniques to magically produce the perfect model for their marketing programs.
I was impressed by the models presented and they did everything from lead scoring for online sweepstakes to predicting purchasing patterns for each item in each store of a large grocery chain, but there was no magic "Easy" button that created these. These models required enormous amounts of clean data and humans heavily involved in the model build process.
Many organizations are thinking about AI and ML, but there are still barriers due to a lack of reliable and complete data.
For these algorithms to work unsupervised, they require a large volume of high quality data.
According to a recent Harvard Business Review Article, only 3% of companies have data that meets the quality standards that would be necessary for AI. Comprehensive data governance and automated methods for checking data quality are areas to focus on first as we prepare for the future.
2 – The "Perfect" Attribution Model is still the holy grail for many organizations
Attribution was a hot topic of conversation and you could sense the frustrations people were experiencing in pursuit of the perfect Attribution Model. We have our own views when it comes to attribution which we covered in a blog earlier this week, but the consensus was that there is no perfect answer when it comes to attribution. The important thing is to focus on getting consensus by all parties involved—and understand that it is not an exact science.
3 – Analytics used to tell a story were the most engaging
The presentations that seemed to engage the audience the most were ones that effectively used data to tell a story. It is difficult to balance the detailed information to connect the dots while also keeping the presentation concise. This is a challenge we wrestle with when presenting analytics internally and to our clients. The best presentations tended to focus on the goal, the steps taken to achieve that goal, and what was learned along the way. The speakers tended to lose the audience when they didn't focus on what really mattered or communicate in a way everyone could understand. We all use terminology specific to our industry and it becomes secondhand, but not everyone in the room may know that NPS stands for Net Promoter Score.
4 – Personalizing the customer journey is the primary goal
At the end of the day, all the sessions had one overarching goal in mind which was that marketers of all kinds have one simple, single-minded goal—to better understand their audience(s) so that they can send the right communication at the right time. This has essentially always been the definition of marketing and our role as marketers, but we have always needed better tools. Whether it was geo-targeting, customer profiling, sales forecasting, lead scoring, or A/B testing, it is exciting to see how many people are innovating the tactics we can use to achieve this common goal.
By Andy Johnson | Vice President