Read our follow-up blog posted here.
July 30th, 2018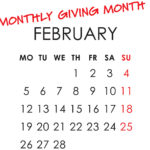 Almost every non-profit would love to have more monthly sustainers. They provide a regular source of income, have high retention rates with low cost of fundraising, and are expected to support the charity in multiple other ways.
So how can you get more of them…without breaking the bank?
Most charities have all the basics already in place: a website that accepts monthly gift signups, direct mail reply devices that tout the advantages, and sporadic communications via the web, DM or telemarketing to gain new monthly supporters.
However, those are scattershot methods that depend on the supporter to take advantage of the offer. With a dedicated Monthly Giving Month each year, the entire organization can focus efforts on gaining new sustainers in the mail, online, face-to-face, telemarketing and via email.
But wait, won't that affect overall revenue generation during the Monthly Giving Month since only a fraction of the audience is likely to become sustainers? Yes and no…
First, select a month in which your promotions are at a low point anyway—for many organizations, summer is a good time. Once you have determined the audiences who have the highest potential to become sustainers (new donors, those who made multiple gifts in the previous year, or a model based on coop data), aim sustainer promotions only at those households. Retain your existing promotion efforts to all other donors or members since the probability of conversion to sustainer is lower than a straight appeal.
All existing sustainers should be solicited for an upgraded ask amount, preferably via the method that initially signed up—web, telemarketing, email or direct mail.
Finally—and this is a "must do"—make sure that the website is taken over for sustainer giving. Some options include the primary website landing page, a popup touting monthly giving to every visitor (with a cookie to turn it off after a limited number of visits), moving the sustainer ask to the primary position on the donation form, having a popup for all asking donors making one-time gifts to opt for monthly support, and having a strong conversion ask in each autoresponder and acknowledgement as a follow-up to a single gift thank you.
By Ron Bell | Managing Partner and Founder