March 4th, 2019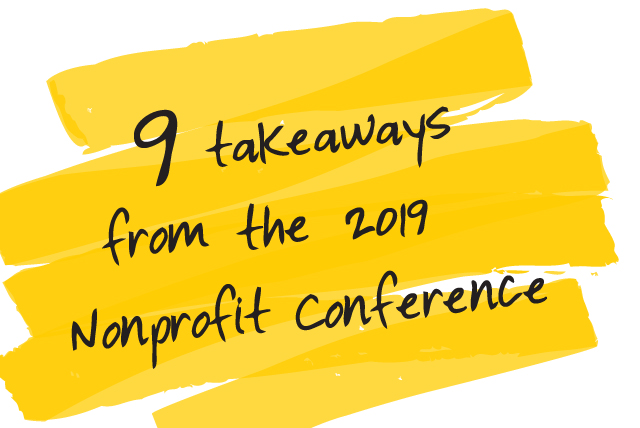 Each year, MarkeTeam participates in multiple conferences—unique opportunities for our team to share ideas, network and learn more about the latest trends and technologies in the nonprofit sector.
These are nine highlights from this year's 2019 ANA DC Nonprofit Conference:
Planned Giving language can creep out the living:

People naturally have issues when it comes to discussing death, especially their own. Ensure you position your planned giving language more positively, using phrases such as "Carry on your commitment for years to come" to shift the mortality burden away from the reader.
Shake things up by interrupting previous patterns:

Human brains constantly searching for pattern recognitions (that's why there's a "Man in the Moon"). Look for ways to incorporate surprises in your communication to subconsciously make a connection at a core level.
Want sustainers? Keep it simple!

Try adding a "make it monthly" checkbox to your reply devices near the ask string to increase the number of monthly sustainers. It works on your website's donation page, so try it on your direct mail reply devices, too!
Thank you, thank you, thank you—you're still not saying it enough: A simple "thank-you" goes a long way to build donor loyalty. Say in your letters, on the phone and on social media. Be sure that your donor is promptly thanked after every interaction with you.
Get to know your donors better through stewardship:

Try to capture information with thank you calls, informal surveys or providing options for comments on reply devices and web pages. Then use the information to customize your communications and segment your file.
Promote the benefits for special forms of giving.

Include benefit inserts in mailings and on your web site to enhance actions for midlevel giving, peer-to-peer fundraising, honor/memorials, planned giving and sustaining gifts.
Numbers and statistics can be impressive, but emotions are what drives giving and builds relationships.
Planned gifts take a mighty long time!

The average age at which people write their first will is 47 years old, and 78 is the average age of when people make final changes to their wills. Generating planned gifts and bequests is a long game, with the need to provide options for information in multiple locations in direct mail, email, websites, and other communications.
Don't be afraid to get emotional:

Emotions are what drives giving and builds relationships. Your supporters' commitment is based on the emotional connection they have with your organization, and your fundraising efforts need to tap into those emotions.
Conferences can be great learning experiences:

In addition to learning about recent trends, you can learn more about your own team, more about yourself and more about other nonprofits and industry leaders. Don't be afraid to step outside your comfort zone and talk to someone new—you never know what you might learn!
To see a full list of conferences MarkeTeam will be attending this year, click here.
Blogs written by MarkeTeam conference attendees