March 11th, 2019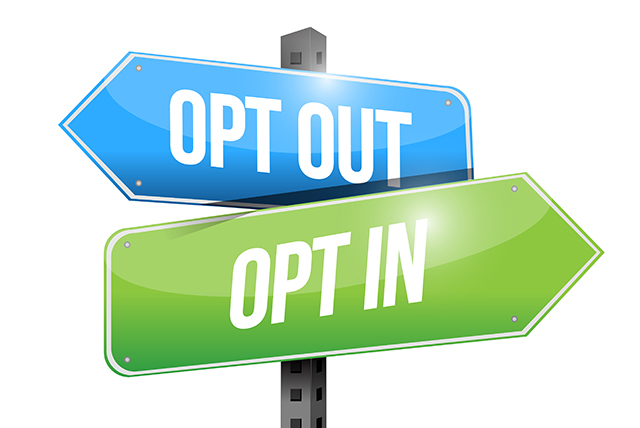 What's your opt-out rate? Across the industry, typical email opt-out rates are around a quarter-percent (0.25%).
Sounds really low, doesn't it? But if you're like many nonprofits sending 50, 75, 100 or more messages each year, that can add up to 25% of the openers of your email list.
"Wow!" you might be saying. "One-fourth of my readers drop out every year!"
And when you add in the average of a half-percent (0.5%) for hard bounces, that can add up to three-quarters of your list "churning" annually.
While it's almost impossible to stop hard and soft bounces, you can minimize opt-out rates with one simple step: Offer a variety of options on the opt-out form to both gather intelligence on what topics your supporters want to see and demonstrate that your emails are providing relevant and thought-provoking communications.
The Association of National Advertisers (which recently acquired the Direct Marketing/Data and Marketing Association) has a great opt-out page. It lists 13 different email stream subject categories, along with eight other narrowly focused topics that include Breaking News, Regional Events based on location, and Marketing Leadership. It also clearly states the number of times per week that each topic is deployed, ranging from 3X/week to ad-hoc for events.
Similarly, the American Lung Association has an incredibly comprehensive online preference page for its direct mail appeals. It lists seven different types of premium mailings for opt-in (labels, calendars, greeting cards) … lists the months of the year to opt-in/out … and even lists other methods of contact for opt-out (telemarketing, neighborhood, planned giving). Kudos to the web designer and the database manager who set this up and manages the direct mail preferences. (Oddly enough, there is only a single opt-out for all emails!)
A secondary reason to develop a more comprehensive email option page is that it helps create an annual schedule. If you list newsletters, events, breaking news, and other topics, then each topic will need to be covered on a regular basis. One of the ways to gain opening and readership is to notify the recipient that they asked for the topic—preferably above the fold or in the subject line.
After you've improved your opt-out form, change the wording on your emails from "Opt-Out" to "Manage Your Subscription Topics." Start working on your online form today and take note of the slowdown in the churn of your list!
Blog written by Kentrell Hargrove | Data Analyst