May 13th, 2019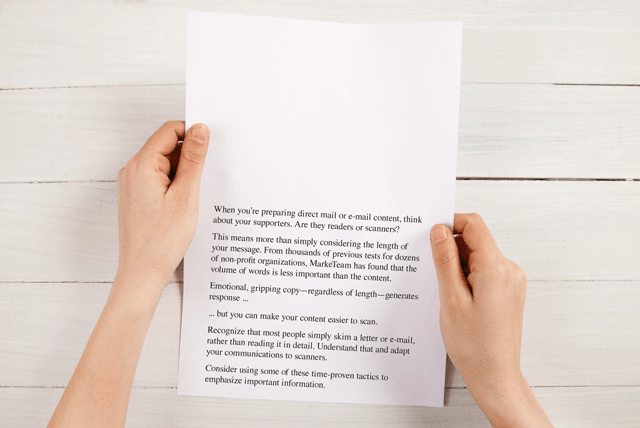 When you're preparing direct mail or e-mail content, think about your supporters. Are they readers or scanners?
This means more than simply considering the length of your message. From thousands of previous tests for dozens of non-profit organizations, MarkeTeam has found that the volume of words is less important than the content.
Emotional, gripping copy—regardless of length—generates response …
… but you can make your content easier to scan.
Recognize that most people simply skim a letter or e-mail, rather than reading it in detail. Understand that and adapt your communications to scanners.
Consider using some of these time-proven tactics to emphasize important information.
Introduce more white space to make the communication more reader-friendly. Wide margins, double-spacing between paragraphs, callouts and visual breaks make both reading and scanning more pleasant.
Use bulleted or numbered lists with wide indents.
For additional information, embed helpful links [such as a related article: "Do you move your lips when writing copy?"] in your e-mails for those who want to learn more.
Emphasize content by bolding, underlining or

highlighting

important concepts.

Handwritten margin notes or callouts can make your message friendlier, or draw attention to important items.

Try "teasing" your readers by introducing a story, then "cutting away" until finally coming back with the resolution. Think of how Ice Road Truckers introduces a challenge and then comes back to the outcome later in the program to retain viewership.
Emotional, gripping copy—regardless of length—generates response …
The idea is to draw readers—and scanners—in with the key points to hook their interest. Be sure you include a clear call-to-action (hopefully more than one) so the recipients know exactly what you want them to do. One handy tip is to re-read your message—but only the underscores and bold passages. If you can understand the message, you're on the right path!
Blog written by Jessica Hey | Copywriter