April 28th, 2020
MarkeTeam often hears from our clients after completing a donor wealth-screening, "Our donors supposedly have hundreds of millions of dollars ready to give—how can we harness a larger portion for our mission?"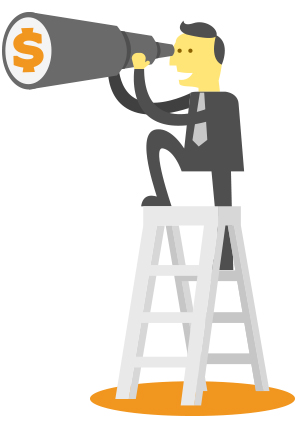 Wealth screening is only one of multiple criteria to consider when identifying a donor as a Mid-Level or Major donor prospect.
Consider this: most wealth screening relies on a household's single largest asset—their home value. That's not surprising since home values (and mortgage balances) are somewhat easy to obtain, while stock portfolios and other forms of wealth are not publicly available. But who do you know that sells their home to support a charity?
Even households with modest net worth can often make a 5- or 6-figure gift if their motivation is great enough. We've all heard of the case of a long-term $15 donor who leaves a bequest of $10 million or more—how could this have been anticipated and cultivated?
At MarkeTeam, we advocate that wealth screening needs to be considered from a different perspective: a combination of wealth and willingness (for more on why both are important check out our Focus on the wealthy blog). Nowadays, co-ops share so much information that it's rather straight-forward to determine if a household is very charitable. Even if most non-profits don't submit their Mid-Level and Major donors to the co-ops, most charitable households support a broad range of causes and will stand out in the data. We keep our eyes out for those reporting multiple gifts of lower amounts to provide an indication of overall charitable giving.
Another way to improve targeting of potential Mid-Level and Major donor prospects is to build profiles of your supporters to determine key points of differentiation. MarkeTeam's approach includes data such as home values, estimated income based on census tract information, number of charities reporting gifts from the household, and single largest gifts to charities in your competitive space. Sometimes factors that seem less relevant turn out to be stronger indicators of wealth and willingness such as buying sporting equipment, visiting family restaurants, or buying organic food (for more insights on how to use Profiles check out our blog Get to know your audience).
Sometimes factors that seem less relevant
turn out to be stronger indicators of wealth
and willingness such as buying sporting equipment, visiting family restaurants, or
buying organic food.
Once a profile of your best donors is ready, "look-a-likes" can be extracted from your existing donor file for further study. Our advanced machine learning approaches can consider multiple criteria and rank-order each donor/prospect by how closely they match your charity's existing high-value supporters. That truly makes a difference for your cultivation team since it can both narrow down the prospects and place them in priority order of best-to-worst to optimize outreach and cultivation efforts.
We also know that client proprietary information can prove to be key indicators of a donor's potential. Was the donor or a close family member treated at your hospital? Does your supporter have several beloved household pets? Did they or a family member attend your university? Has your supporter participated in multiple events hosted by your organization? And, perhaps most importantly for planned giving, does the donor have immediate heirs, children, or grandchildren?
Generally, proprietary information can be obtained from your organization (patient history, for example). Still, the critical detail might only be obtained by asking the donor. Recognize that any prominent donation should warrant a call to donors to thank them for their support, followed by a few moments to broaden that relationship to learn more about their interests and connections. We see previous donation history as a strong indicator for future support in many of our predictive models; donor longevity and single largest gift are both harbingers of serious commitment. But other factors may also be important to your supporters, and you should use those topics to steer a conversation when you personally reach out to them.
We know that wealth screening is only one of many tactics. A history of giving, a direct connection to the cause, and a match of the donor's interests to a need are all helpful components that deserve attention by your organization. 
Predictive models can't build authentic relationships with your donors—only humans can do that. But our models can help you focus on the best ways to approach the prospects who possess the highest potential!
MarkeTeam has one of the largest data departments in the industry with analysts, data engineers and modelers on staff. We can help you with better targeting and audience selects!
Blog written by Sorian Enriquez | Senior Data Analyst