BACKGROUND: Inova is Northern Virginia's leading nonprofit healthcare provider, serving more than 2 million patients per year through an integrated network of healthcare facilities.
Throughout the COVID-19 pandemic, Inova experienced unprecedented challenges when the surge of patients from the Washington, D.C. area—one of the nation's "hot spots" for infection rates—needed medical help.
Inova had preplanned for an event like this with protocols in place, but it needed additional financial support with such overwhelming needs arising so quickly. Inova and MarkeTeam launched a highly-successful fundraising series to support their Emergency Preparedness Fund to assist frontline staff who were working long hours and extended shifts.
MarkeTeam was tasked with creating an "instant" campaign that would inspire the Northern Virginia/DC community to support Inova's doctors, nurses, and other staff, personally engaging donors with Inova caregivers to thank them for their heroic dedication and sacrifice.
STRATEGIC APPROACH: MarkeTeam conceptualized a new campaign and designed a custom logo for Inova—part tagline, part rallying cry—entitled Give to the Givers.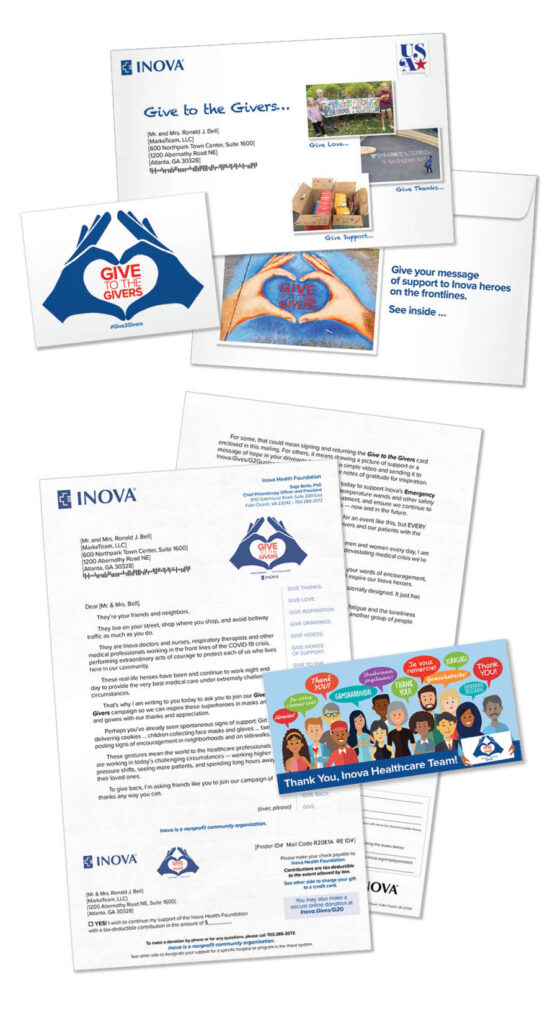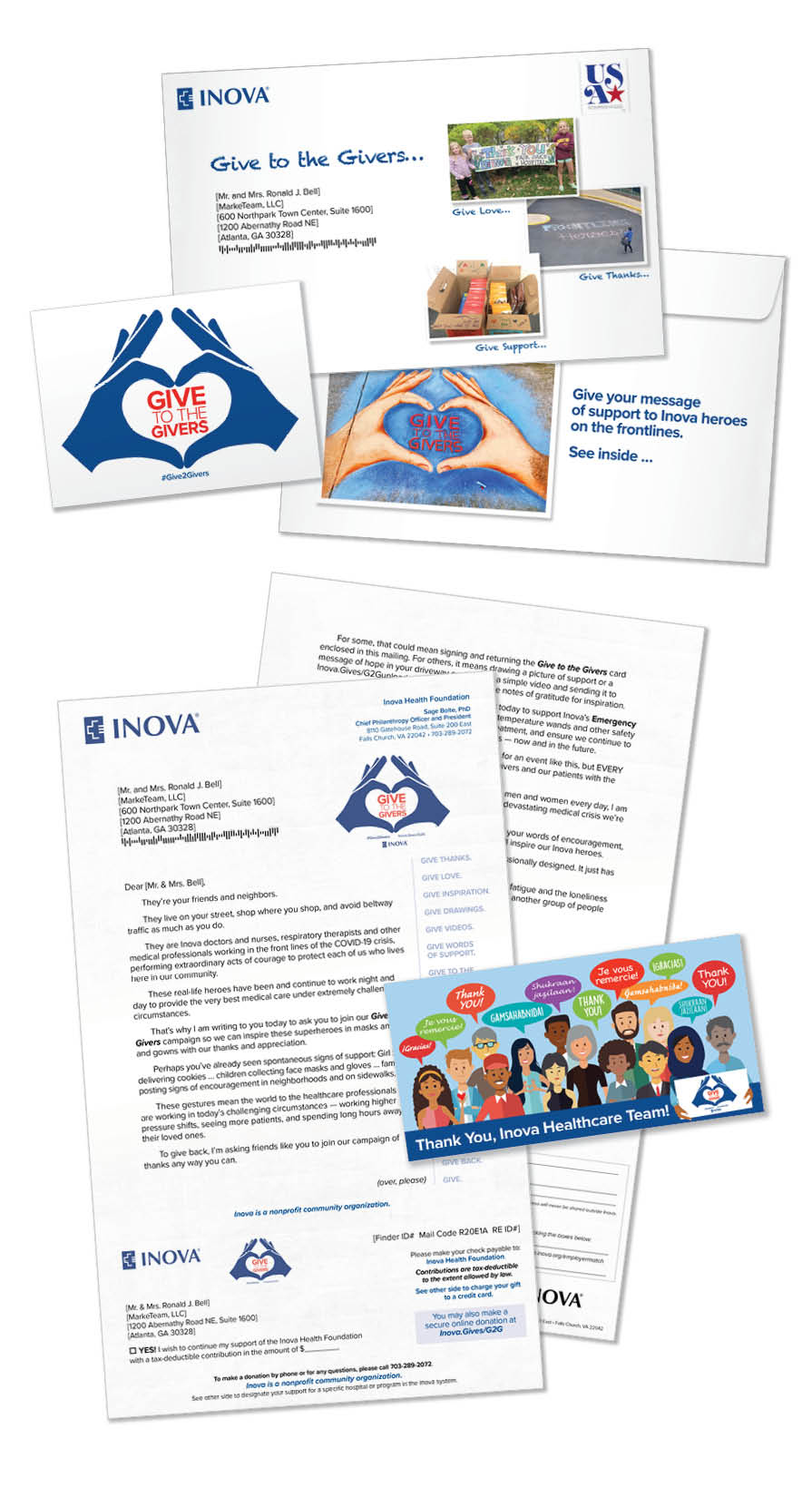 This campaign's primary objective was to create a viral wave of community sentiment to show appreciation for Inova healthcare workers on the front lines who were providing around-the-clock care, working extra and extended shifts, and spending time away from their families.
Give to the Givers invited Inova core and Mid-Level donors—and a MarkeTeam-modeled segment of prime patient prospects and families—to demonstrate their appreciation by sending words of personal encouragement that ranged from hand drawn pictures, sharing photos, to submitting artwork that could then be shared with frontline hospital workers. 
Donors were also encouraged to support Inova's Emergency Preparedness Fund through a dedicated URL, foundation.inova.org/give2givers so donations could make an immediate impact. Donations could also be made in the mail.
The objective was to turn the submitted artwork and messages from donors into banners to hang in the hospital facilities. Many were also featured on a dedicated landing page and tagged for social media with the hashtag #Give2Givers.
PROGRAM IMPACT: The campaign exceeded all expectations, resonating strongly within the Northern Virginia and DC community who responded with an outpouring of appreciation and affection.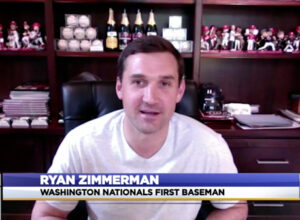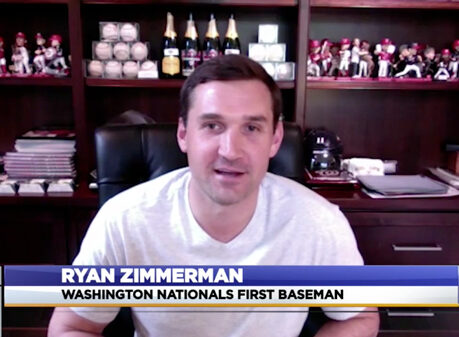 Even more exciting, Give to the Givers ultimately took on a life of its own. Inova Health Foundation's Chief Philanthropy Officer and President, Sage Bolte, and the campaign was featured prominently in a variety of local and national newspapers.
Washington Nationals' First Baseman and World Series Champion Ryan Zimmerman was moved by the sentiment to make a personal $100,000 gift towards the Inova Emergency Preparedness Fund (in addition to participating in a surprise video conference with Inova healthcare workers).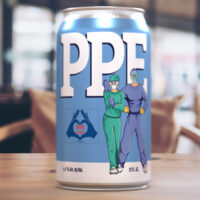 Water's End, a local DC brewery, featured MarkeTeam's Give to the Givers logo on a special edition, "People Performing Under Extreme (PPE)" conditions beer, donating $6 from the sale of every 6-pack to Inova's Emergency Preparedness Fund. The first batch of "PPE" beer sold out on the day it was released, and production was doubled for the second batch, ultimately generating an additional $25,000 in funding.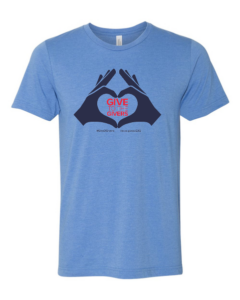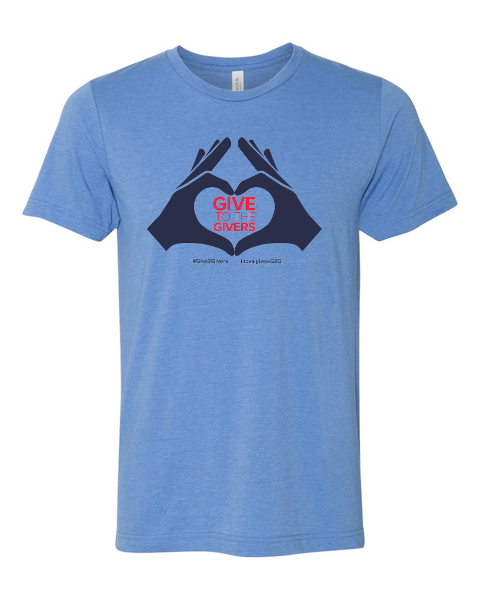 Cheers Sports, located in Loudoun County, is owned by grateful family and NICU dad, Denny Petrella. Denny and his family are responsible for the Team Joe Lounge, in the NICU at ICH, and Cheers Sports is Inova's StarKid 5K T-shirt Sponsor. Cheers Sports created T-shirts and hoodies for Inova to sell in their online store promoting the Give to the Givers campaign. For each t-shirt and hoodie sold, Inova's Emergency Preparedness Fund will receive $15.
Through mid-May, the campaign has raised more than $4.7 million for Inova's Emergency Preparedness Fund, reinforcing the fact that we can all raise a glass to the success of the campaign and our nation's frontline healthcare workers.