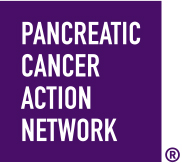 BACKGROUND: Pancreatic Cancer Action Network (PanCAN) is dedicated to fighting the world's toughest cancer. With its urgent mission to save lives, PanCAN attacks pancreatic cancer on all fronts: research, clinical initiatives, patient services and advocacy. Its efforts are amplified by a nationwide network of grassroots advocates and families, all of them determined to accelerate progress and improve patient outcomes.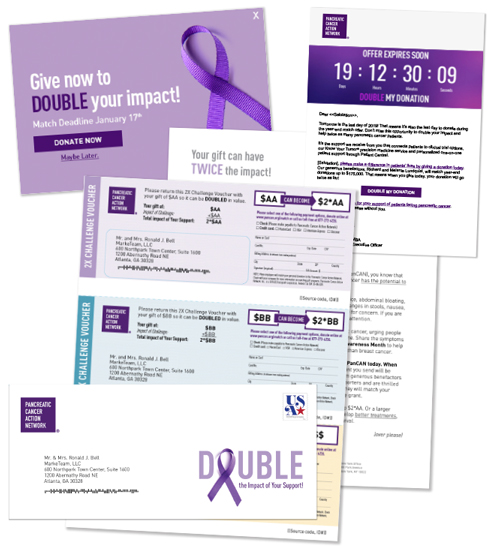 Raising awareness of this often-silent form of cancer, November is dedicated to Pancreatic Cancer Awareness Month. With the increased number of Americans who will be diagnosed with pancreatic cancer this year, PanCAN's key messaging was to take action to increase the recognition of its signs and symptoms, and the urgent need for early detection.
The coordinated online and offline efforts also included a matching gift offer from generous benefactors, Richard and Melanie Lundquist of Continental Development.
STRATEGIC APPROACH: Since November is so close to year-end and a critical month for fundraising, MKT recommended the inclusion of a matching offer in PanCAN's direct response program. With a stated deadline for the match, donors had an added incentive to immediately act. While FY20's appeal had the same Match amount as FY19, MarkeTeam made several other changes, including:
A more prominent mention of the offer on the outer envelope branded with a purple ribbon.
The use of vouchers for multiple reply devices that highlighted suggested gift amounts.

Educational content in the form of an infographic to provide increased value and highlight the efforts and impact of PanCAN.

Promotion of Donor Advised Funds to encourage owners to make more substantial gifts.
PROGRAM IMPACT: The Pancreatic Cancer Awareness Month Match more than doubled the revenue over the previous year's results while overall response rates more than tripled by targeting efforts to better segments on file.