Inova Health Foundation wanted to honor their doctors — who not only stepped up to meet the demands of the global pandemic, but transcended it — with a multi-channel push around Doctors' Day on March 30.
MarkeTeam designed a custom logo and conceptualized a brand-new campaign that was deployed across multiple channels including direct mail, two emails to Inova's housefile email list, one email to modeled patients, paid Facebook lead acquisition and organic social media posts across several of the organization's social profiles, and dedicated landing pages. In total, this campaign generated more than 1,200 messages of support to Inova doctors in addition to thousands of dollars of revenue.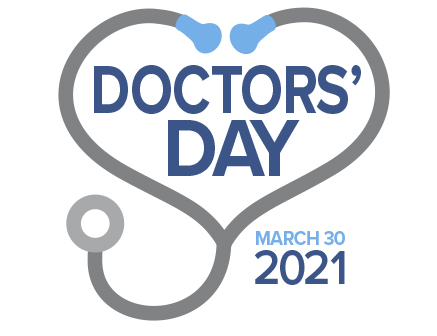 Direct Mail
MarkeTeam designed an all-new direct mail campaign featuring a custom Doctors' Day logo throughout. The letter — written from the perspective of Inova's head doctor of clinical enterprise — introduced the Doctors' Day campaign and asked donors to join in the sentiment by both sending a message of thanks to a doctor and making a supporting gift.
The package included a double reply device. The top half served as the mail-in reply, while the bottom half was designed as a thank you note. To drive engagement, recipients were asked to write their own message of thanks to a doctor. The dedicated URL and landing page created for this campaign were also designed to generate multi-channel conversion. The logo was even carried onto the reply envelope to reinforce the special nature of the campaign. The mail drop was timed so the package arrived in-home at the same time the digital assets were being launched, creating a consistent messaging 'blitz' across multiple channels.
Leveraged #DoctorsDay to Celebrate and Encourage Frontline Healthcare Workers
Patient E-Mail
Using a MarkeTeam-modeled patient email list of prime prospects, the patient email performed very well across all metrics of success, generating more than 900 messages of support and thousands of dollars of revenue. The campaign featured a daisy-chain engagement (send a note to a doctor followed by donation options on the confirmation page), an engagement tactic that we will look to use in future conversion efforts to our modeled patient file.
Housefile E-Mails
MarkeTeam created a two-part email send for the Inova Health Foundation e-housefile: a teaser announcement email sent one week in advance of Doctors' Day, and a celebratory email on Doctors' Day. The all-new campaign emails had strong open and click through rates, low unsubscribes, and positive revenue figures for a traditionally-weak time of year.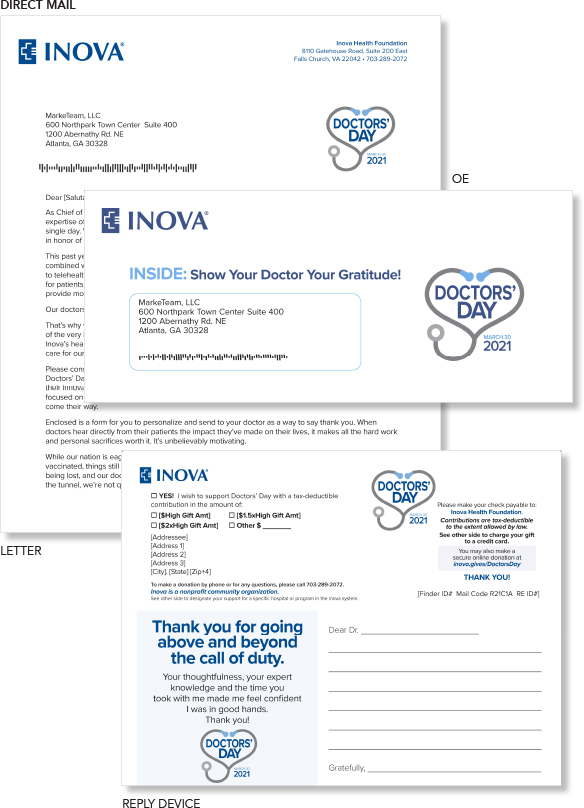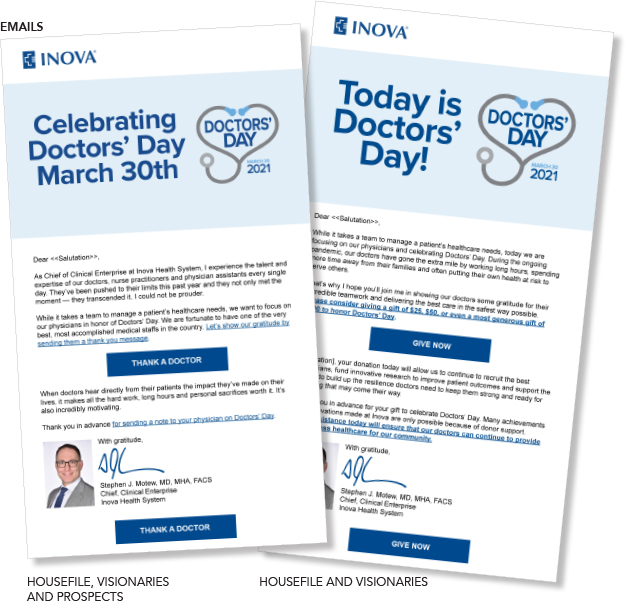 Paid Facebook Lead Acquisition
The goal of this ad campaign was to generate additional prospects for the Inova Health Foundation email list by engaging individuals to send a message of support to Inova doctors.
We leveraged a Facebook Lookalike model and a geographic restriction around the hospital service area to reach more than 20,000 prospects. Notably, the vast majority of leads came in via mobile, which is a good reminder to ensure that any lead generation forms are mobile-optimized.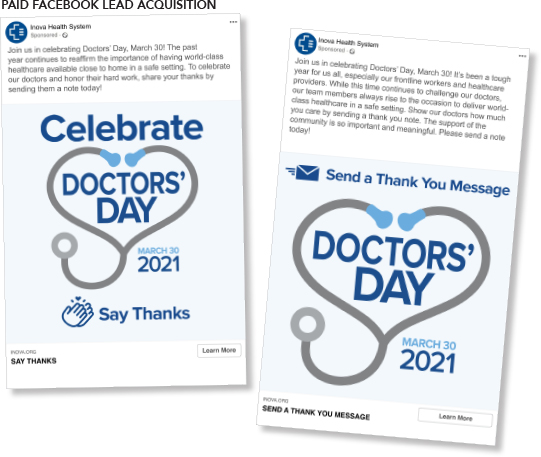 Organic Social Posts
Two sets of Organic Social Posts were also created and served across Facebook, LinkedIn, Twitter, and Instagram. The posts were engaged with hundreds of times over more than 13,000 impressions, and helped generate additional notes of thanks, new subscribers, and revenue.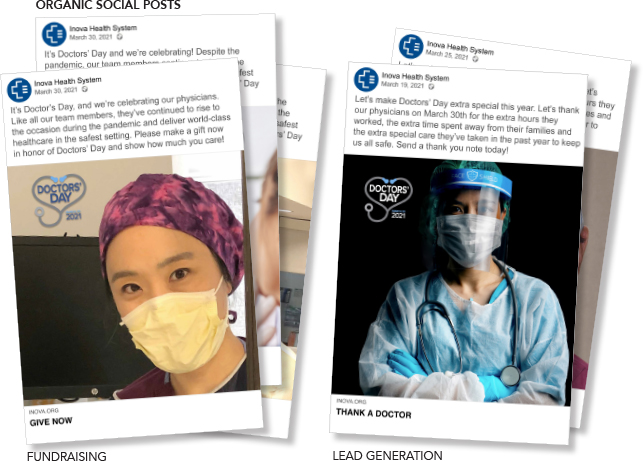 Dedicated Landing Pages
Dedicated landing pages for the daisy chain to donate forms were also created. These carried over the language and custom Doctors' Day logo from the other assets. Page designs ensured consistent messaging throughout the user experience, a proven best practice to increase conversion.