April 26th, 2022
The fundraising landscape constantly evolves with changes in donor behaviors and channel preferences, an increasingly competitive economic environment, and current events in society.
One of the most notable shifts underway currently is a generational shift as Baby Boomer donors age and Generation X becomes more active philanthropically. While Boomers (58-76 years old) remain today's largest donor population, Generation X donors (ages 46-57) are now entering their prime giving years.
Comparing these generations closely using our Profile dashboard, powered by DonorOptics,SM reveals some important differences in the ways these groups prefer to give.
This snapshot summarizes key trends we identified based on a comparison across 1,000+ demographic, psychographic, and lifestyle variables from licensed U.S. household data for the following four distinct audiences:
Boomer Donor – Baby Boomers age 58-76 and at least one donation
Boomer Balance – Baby Boomers age 58-76 and no prior donation
Gen X Donor – Generation X households age 46-57 and at least one donation
Gen X Balance – Generation X households age 46-57 and no prior donation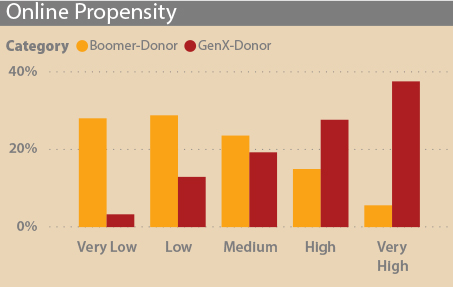 Comparing Boomer and Gen X audiences reveals key differences in potential giving behaviors that can drive effective messaging:
More likely to give by mail
Somewhat less likely to give online
91% mail responsiveness
38% make charitable gifts
A bit less likely to give by mail
Active and likely to give in online channels
87% mail responsiveness
22% make charitable gifts
How Direct Mail and Digital Responsiveness Differ
When evaluating across Online Propensity, MarkeTeam's model predicts the likelihood someone is actively transacting through online channels. Generation X is distinctly more active on digital channels, and very active in offline channels as well, showing only slightly lower mail responsiveness compared to Baby Boomers, 87% vs. 91%. This indicates a robust multi-channel approach with giving opportunities in both online and offline channels would cater to the behaviors of this generation.
Gen X is just entering the stage of life where we observe increased philanthropic giving and they have had fewer opportunities to start making donations than Boomers. This explains why Gen X is currently less charitable than Boomers based on the percentage of each generation with charitable giving, 22% for Gen X compared to 38% of the Boomer population. Gen X will be increasingly active in the fundraising universe in years to come.
There are several demographic differences between the Gen X and Boomer donor audiences. The younger Gen X donors are more likely to have children still present in the household, with 47% having at least one child living with them. Gen X has the capacity for charitable giving since they have a higher income with about the same net wealth as Boomer donors. Gen X donors are also more diverse with a higher representation of Hispanic and Asian-American households.
As the fundraising climate continues to change, the underlying generation shift in our target donor audience is gradually taking place. Profiling your own donor universe can reveal how these differences in behaviors can guide your communications approach in various channels, prospecting for new donors, and testing for the optimal messaging.
Blog written by Andy Johnson | Vice President of Analytics