UNICEF USA understands the importance of new sustainer acquisition and donor conversion and has invested heavily in various channels over the years to grow its sustainer program. An early adopter of DRTV, UNICEF USA was able to effectively increase its sustainer file 3-fold in the last 10 years. However, an increasing cost to acquire forced UNICEF to evaluate alternate channels. Face-to-Face proved successful and UNICEF was poised to make a significant investment in 2020 when the COVID-19 pandemic struck. With sustainer acquisition off the table, UNICEF USA pivoted to focus more of its efforts on existing donor conversion.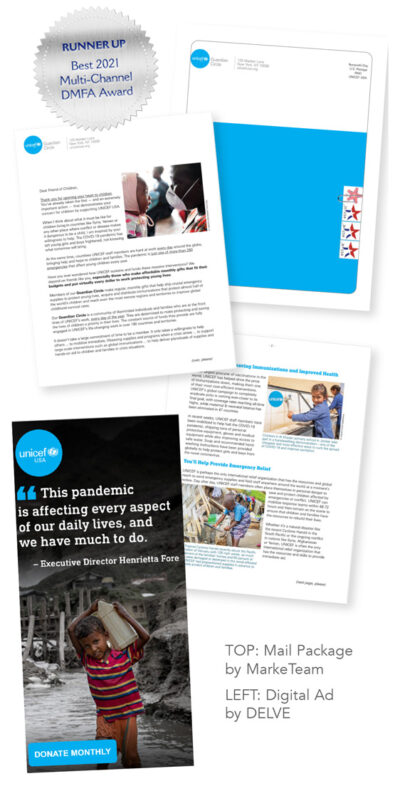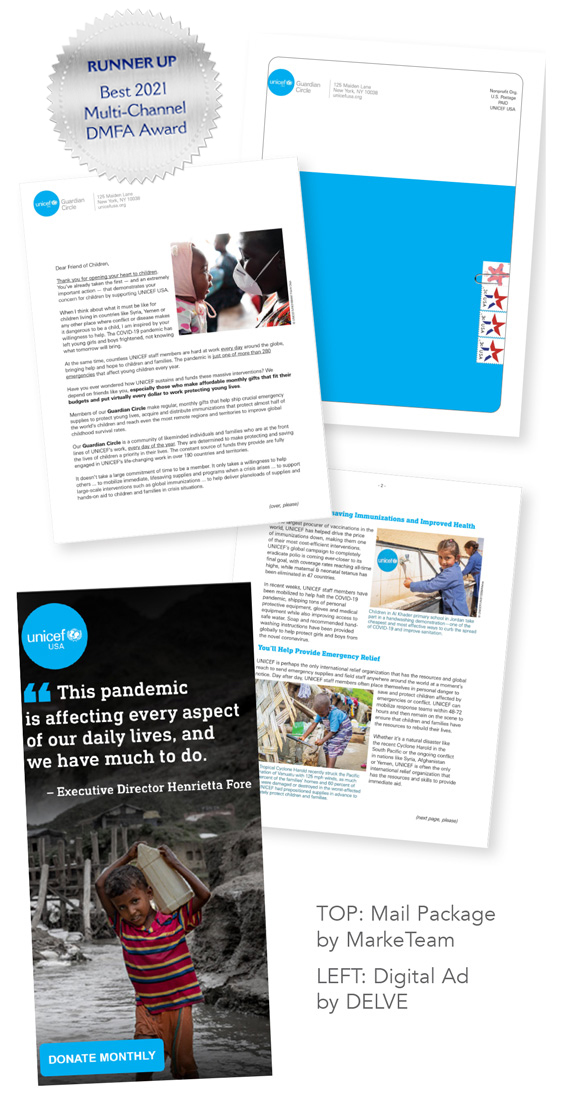 UNICEF partnered with MarkeTeam, their direct response agency, and DELVE, their digital media agency, to build and test a cross-channel messaging and targeting approach, serving direct mail recipients cohesive digital messaging prior to receiving the mail piece. The goal of the testing was to determine if this cross-channel marketing approach more effectively moved donors through the funnel towards sustained pledges.
The offline/online messaging increased pledge conversion by 80% over the digital advertising alone.
As a first step, MarkeTeam developed a customized sustainer model utilizing a combination of both client data and appended data (demographic, charitable giving, channel activity) in order to identify an optimal panel of prospects. This cohort was A/B split, with the control panel only receiving digital ads and the test panel receiving the coordinated direct mail and online messaging. DELVE was able to use MarkeTeam's modeled prospects and mirror the targeting directly within DV360 (Google's programmatic demand side platform, DSP) to deterministically target mail recipients with cohesive digital media messaging, enabling a consistent experience with UNICEF online and offline.
The results focused on donor conversion to the sustainer program within 60 days of receipt of the mail package. The offline/online integrated messaging proved highly successful, increasing pledge conversion by 80% over the digital advertising alone. The success of this test has empowered a more consistent and ongoing collaboration between DELVE and MarkeTeam to connect online and offline targeting + messaging for future direct mail campaigns.
Blog written by Brian O'Keefe
Senior Vice President of Client Services