May 21st, 2021
Throughout the COVID-19 pandemic, MarkeTeam and our clients continued to explore new ways to fine-tune our fundraising and cultivation efforts to keep our messages timely and relevant. (We recapped many of our previous notable COVID-related successes in two earlier blogs: Strategic Email Shifts During COVID-19, Part 1 and Part 2).
Because COVID personally affected every one of us, the urgency in direct mail and email was similar to an emergency fundraising appeal that lasted longer than any emergency or crisis we have ever seen.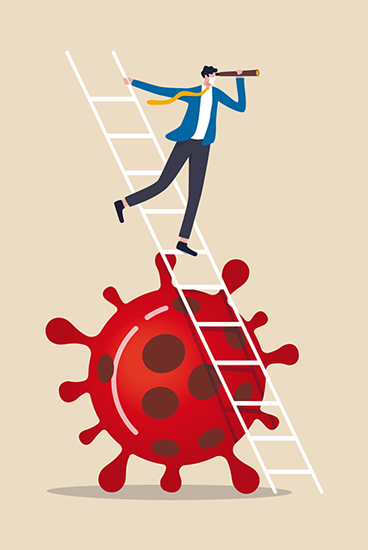 However, unlike other emergencies, donor and prospect fatigue did not occur and they continued to give throughout the pandemic. But now, as donors and prospects continue to grapple with the unknowns and we start to turn the corner into our post-COVID "new normal", we are also looking ahead to how some emerging trends may affect our messaging and strategies moving forward:
Continued Rise of Online Giving
While people transitioned to working remotely, they also got busy cleaning up their inboxes, increasing their online engagement, reading their direct mail — and they were generous, as the industry saw a 32% increase in online giving according to the 2021 M&R Benchmark Study. 
MarkeTeam was quick to implement aggressive communications to donors and prospects to give online in their direct mail appeals. This included redesigning reply devices to make dedicated landing pages and online giving options more prominent (both visually and with copy) and in some cases, even adding an entire paragraph in the direct mail appeals to direct them to the online donation page. We also increased the deployment of email communications, both for our online-only and multi-channel audiences, which saw significant increases in revenue.
Virtual Events and Telehealth Here to Stay
MarkeTeam also assisted many of our clients in their shift to virtual events with invitations and other supporting communications. Now that the infrastructure for virtual events has been built out, and in many cases, record-breaking figures achieved virtually, it will be interesting to see what events will look like post-pandemic. We anticipate that some events will return to only in-person, some will permanently shift to virtual, but often, some sort of hybrid option will emerge. This would allow for more attendance than could be achieved in-person (either due to venue size or social distance measures), while still providing in-person benefits to those that choose to physically attend. 
Similar to virtual events, many hospital systems had to spend significant amounts of resources to build out telehealth options for their patients. Now that these systems are established, coupled with the rise of digital comfort, we expect this large infrastructure undertaking to have an increasing amount of usage in the coming months and years. The presence of telehealth also helps to address many scheduling, transportation and financial barriers, creating additional healthcare pathways among the communities they serve.
Unlike other emergencies, donor and prospect fatigue did not occur and they continued to give throughout the pandemic
Focus on Behavioral Health
The pandemic has taken an immense toll on mental health for many Americans. In 2019, about 11% of all Americans reported suffering from substance abuse, depression, or anxiety. In 2021, that number has risen to 41%. These numbers show that people need support now more than ever — but also that they're more willing to verbalize their problems — helping to reduce historical stigmas related to asking for help. You can read more about Mental Health Awareness and how some nonprofits are addressing this issue in our blog, A Day We Can All Feel Good About.
We anticipate that behavioral health will increasingly be a topic of focus for many charitable sectors in the years to come. Children have been in isolation — no school, no sports, deferred college admissions, and more. Many Americans are dealing with food insecurity and job loss, adding to the mental toll. 
While the discussion over rent suspension continues, we are already seeing rising housing insecurity as we move past the 1-year mark and many landlords are simply not renewing leases. Remember that the rent is merely being suspended — not cancelled — so questions remain about what will happen as these bills start becoming due. As previously referenced, the rise of telehealth can help with this issue, and we are already seeing health systems take proactive steps to address this in non-traditional ways (transportation credits to get to appointments; grocery cards for healthy eating, which is another part of positive mental health). 
Rallying Points + Milestones
While the pandemic upended our lives with stay-at-home orders and social distancing, it didn't stop all happy occasions. Joyful, life-affirming events like births and weddings occurred even in the (masked) face of adversity. Personal milestones were achieved and gave us welcomed rallying points to celebrate. 
Our charitable partners also achieved milestone events during the pandemic. We helped them share many of these with donors. In doing so, we demonstrated the resilience of their organizations, and share positive messages to help brighten a dark time, which donors seemed to appreciate. Here are some especially successful efforts that turned good news into brand building fundraising appeals.
For Pancreatic Cancer Action Network, we created a distinct "Day of Giving" that included both direct mail and emails, which was in addition to #GivingTuesdayNow. This provided another rallying point for donor support and engagement.

 

Inova Health Foundation wanted to honor their doctors — who stepped up not only to meet the demands of the global pandemic, but transcended it — with a multi-channel push around Doctors Day on March 30. MarkeTeam designed a custom logo and created a brand-new mulit-channel campaign that included direct mail, two emails to Inova's house file, one email to modeled patients, paid Facebook lead acquisition, organic social media posts across several of the organization's social profiles, and dedicated landing pages. This campaign generated more than 1,200 personal messages of support to Inova doctors in addition to thousands of dollars of revenue.

 

Operation Homefront filmed a serious of video communications from their President that were deployed via email to keep constituents informed of progress and milestones achieved throughout the pandemic. They also donned masks to continue delivering on many of their flagship programs, such as Holiday Meals for Military Families and Back-to-School Brigade, where they fulfilled their 425,000th backpack. These milestones were recapped in an additional email message in early January and shared via infographics in their spring newsletter.

 

Despite the global pandemic, SmileTrain was able to keep performing cleft treatment thanks to their unique business model, worldwide network of experts and unwavering donor dedication. Although the normal pace of surgeries slowed during 2020, SmileTrain was still able to perform an impressive 68,000+ safe cleft surgeries, which they spotlighted in a featurette on their website recapping their 2020 successes.
Joyful, life-affirming events like births and weddings occurred even in the (masked) face of adversity
These tactics allowed for direct donor engagement and a shared sense of success in reporting back the impact of donor support. The success of these efforts is a good reminder that we can never say 'thank you' enough, and gratitude reports, infographics, and messages of thanks should all be messages we look to leverage in the coming months to help with donor retention. 
Shifting Global Focus
COVID-19 has reinforced a common shared 'humanity' among all of us. As we start to turn the corner on the virus domestically, our focus shifts to our international partners in our common responsibility to combat the disease worldwide. The pandemic has highlighted the interconnected global web we collectively share, which has many implications as the virus rages on. Recent pressures to the global economy, supply chain, and the widening gap among the rich and poor pose new threats to a variety of environmental, human services, international relief, and numerous other charitable sectors that are currently hard to predict.  
MarkeTeam client UNICEF has been entrusted with the largest and fastest vaccination program ever. As the world's largest procurer of vaccines, vaccinating nearly half of the world's children every year, the Global Alliance for Vaccines and Immunizations (GAVI) turned to UNICEF to help deliver 2 billion COVID-19 vaccines to ensure they can be distributed equitably to less-advantaged countries that are often overlooked.
UNICEF has mapped out transport routes, calculated global airfreight capacity and made arrangements with commercial airlines to ensure the vaccines will reach 92 countries. Because they have experience mounting massive immunization efforts and the cold chain requirements to keep vaccines stable, UNICEF has planned for 70,000 cold chain fridges, and has logisticians and health workers prepared to transport and store the vaccine, along with the required 5.2 million safety boxes and 521 million syringes (which, if laid end to end, would encircle the globe one-and-a-half times).
MarkeTeam is informing donors of this exciting progress in multiple fundraising appeals and newsletter stories, reinforcing their decision to support UNICEF and its important work to save vulnerable children and families.
While hard to predict, it will still be important for our charitable partners to plan for what the future may hold and give our constituents ways to both engage with and directly support our goals. MarkeTeam is proud to partner with such global and domestic forces, doing our part to help end the pandemic — and help our nonprofit clients embrace the new normal to optimize giving.
Your friends at MarkeTeam