BACKGROUND:
The Missionary Oblates of Mary Immaculate serve the poorest of the poor, here in the United States and more than 60 countries around the world. They're a community of prayer, a beacon of hope for the most abandoned communities throughout the world.
While each of their direct mail packages provides spiritual content and hope for every recipient, we also need to motivate our donors to give. For this appeal, especially during COVID-19, we strived to provide a message of hope and healing for those that needed it.
Our overall fundraising objective was to improve net income and lower the cost per dollar raised (CP$R). The previous year's appeal used Our Lady of Fatima, the apparition of Mary, mother of Jesus in Portugal. This site is often a pilgrimage for Catholics and is believed to have healing powers.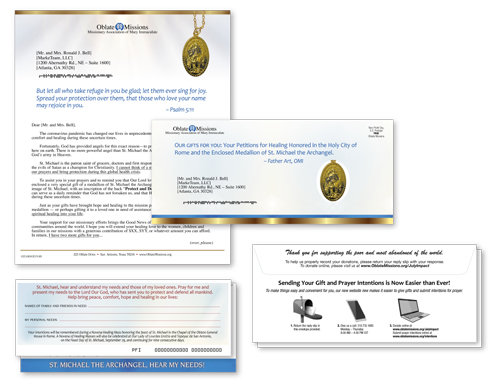 STRATEGY:
COVID-19 was top of mind for most people in 2020. It was still an unknown virus and the threat to one's life and loved ones was frightening. People lost their jobs and families were separated. Donors needed comfort and hope like never before.
This package grabs your attention immediately, since a pendant is included as an upfront premium and shows through a clear cellophane poly-covered oval die-cut window. The pendant itself has a bright, shiny golden tone. Copy on the outer envelope calls out for healing and prayers.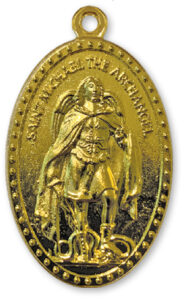 We identified Saint Michael the Archangel as our healing Patron. St. Michael was perfect! As the pandemic raged in our communities, our frontline workers — including doctors and grocery store workers — were rightfully hailed as heroes. So as the patron saint of grocers, doctors, mariners, paratroopers, soldiers, police, and sickness, St. Michael was the right choice. He is also the guardian angel of the Pope and his feast day is September 29; we arranged for a special mass in Rome and requested that it be held at a special church dedicated to St Michael.
The double reply device has another call for healing and prayers and explains the significance of St. Michael. There is also an opportunity to join the Oblate Partners in Prayer monthly giving club. And finally, the reply envelope reminds donors how easy it is to donate, and to receive and submit prayer requests — through the mail, phone call or dedicated URL online.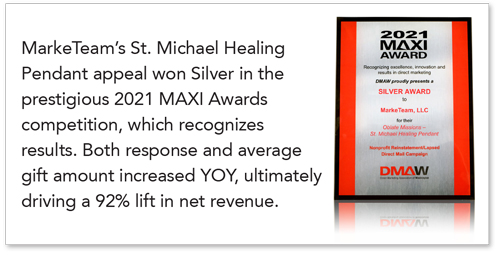 RESULTS:
Results were phenomenal! Every key metric improved over last year! We mailed deeper into our donor segments than the previous year and were rewarded with a higher response rate and average gift. Our Net Income was more than double the previous year because of the strong response rate and average gift — Net Rev/M increased 92%!