May 5th, 2022
What do you want to be when you grow up?
This question was one of the hardest for me to answer as a kid. When I was five, I wanted to drive a bulldozer. At fifteen, I thought about becoming a chef … and now, 25+ years and three colleges later, I am still not sure I know the answer (although I love my job here at MKT). I imagine many of you reading this may have a similar experience. However, there must have been something, or someone, that played a role in shaping our interests in what we wanted to be as an adult.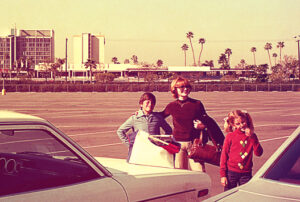 I recently had a Teams catch-up (the 2022 version of a water-cooler conversation) with a few team members, and we ended up talking about comments made by our parents that we still remember. Most of the stories involved times when we got in trouble — the kinds of incidents that ended with your parents loudly calling you by your full (including middle) name. But the silver linings of these incidents were often sterling words of wisdom we received in the aftermath.
I wondered if there were others in the office with their own memories or snippets of advice. We asked around and, BOY did my colleagues respond! So, in celebration of Mother's Day, we thought it would be fun to share. And, since we are direct response agency, I also had to make these musings relevant to your fundraising program.
"Speak your mind."
"Stop dragging your feet."
"It's OK to do things scared, as long as you do them."
One of the biggest challenges in fundraising is taking a risk — even a calculated risk is difficult to recommend to a client at times. That's why it is so easy (and tempting) to rely on same type of appeal, or the same list plan, over and over: we know what to expect. But would mom approve of this frozen-in-place approach?
Probably not. While mom wouldn't want you to do anything rash, like abandon a long-standing control or cancel an acquisition mailing, she might encourage you to try something new, like:
Add a teaser to the Outer Envelope, or try a different teaser.
Test an alternative letter version with a new lead, or that highlights another aspect of the mission.
Swap a new prospect list in place of a lower-performing list that is currently mailed.
One of the biggest challenges in fundraising is taking a risk — even a calculated risk is difficult to recommend to a client at times.
While these risks may pose some initial anxiousness, take comfort in the fact that they're backed by industry best practices. Continual testing is a necessary part of any healthy program, and you may uncover something new that dramatically improves performance.
"Money doesn't grow on trees."
"We're not heating the outdoors."
"Clean your plate."
Now more than ever, all of us are looking for ways to avoid waste and save money — from cancelling streaming services or driving a bit further for cheaper gas. But there's a difference between cost and value. And cutting corners is never the right answer.
If you are looking for ways to lower costs without compromising quality, here are a few efficiency opportunities to consider:
Conduct regular data hygiene: It is recommended to review your data each six month and flag old records as "do not mail", update addresses, etc. If you haven't reviewed your data in six months or less, set aside some time on your calendar to update your donor file. You'll stop wasting time, money and materials talking to the wrong people, so you can reach more of the right
Standardize formats and long-print common campaign elements like envelopes: This will allow you to secure inventory early, lower your production costs, and avoid material shortages later on.
Enroll in Informed Delivery NOW: Postage rates will increase in July, but the USPS is offering a rebate to nonprofits who sign up for Informed Delivery service. More information and enrollment instructions can be found at 2022 Informed Delivery Guidebook Requirements | PostalPro (usps.com)
Our moms may not always have been right, but much of their advice still rings true today — and there's no doubt they had the best of intentions. We're grateful for all they give us, then and now.
On behalf of all your friends at MarkeTeam, I wish you a Happy Mother's Day.
-Pete
Blog written by Pete Brooks | Account Director